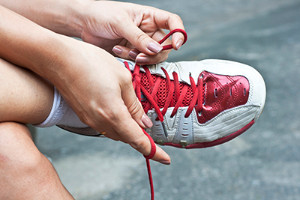 Whether or not your shoes fit properly could be the difference between having healthy feet and having to walk around in pain. There are around 100 different working parts in your feet with 25% of all the bones of your skeleton residing inside your slippers. That being said, it is no wonder that wearing good quality, well-fitted shoes is extremely important for good foot and overall health. There are a few tips to follow when you are shoe-shopping: make sure to get your feet measured (they change size over time!), walk around the shoe store a bit with your new pair on, and buy activity appropriate footwear. This last point is especially important for running. Just because you're not jogging in high heels doesn't mean you're wearing the right shoes.
Finding a properly-fitting shoe is important in reducing injuries and preventing foot problems. For more information about treatment, contact Dr. Richard Silverstein from Union Foot Care. Our doctor will treat your foot and ankle needs.
Proper Shoe Fitting
A common concern when it comes to foot health, having properly fitted shoes can help prevent injuries to the foot. Out feet affect our posture and gait, which in turn affects the biomechanics and overall bodily structure. With 33 joints, 26 bones, and over 100 ligaments, the potential for serious injury is much greater than one realizes. Although the feet cease growth in adulthood, they still change shape as they mature. Here are some factors to consider when it comes to investing in proper fitting shoes:
Be sure the shoes fit correctly right away
Ensure the ball of your foot fits comfortably in the widest portion of the shoes
Even though they may look fashionable, improper fitting shoes can either create adverse conditions or exacerbate existing ones you may already have
Walk along a carpeted surface to ensure the shoes comfortably fit during normal activity
Keeping in mind how shoes fit the biomechanics of your body, properly-fitting shoes are vitally important. Fortunately, it is not difficult to acquire footwear that fits correctly. Be sure to wear shoes that support the overall structure of your body. Do your feet a favor and invest in several pairs of well-fitted shoes today.
If you have any questions please feel free to contact our office located in Havre de Grace, MD. We offer the newest diagnostic and treatment technologies for all your foot and ankle needs.
Read more about Proper Shoe Fitting