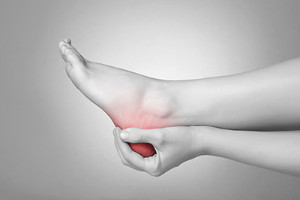 Plantar fasciitis and heel pain can both be very painful and uncomfortable. While stretching won't eliminate the pain, it can help mitigate it. Some stretches that you can perform include the quadruped stretch, isolated calf raise, and even a foot massage. Before you do these, ask your podiatrist whether stretching is right for you. To do a quadruped stretch, get on all fours and spread your toes on the floor. Next, lean back slowly and sit on your heels while holding this position for 30 seconds. For isolated calf raises, lunge with your left leg forward and right leg back. Then, with your right foot flat, lift up onto the ball of your right foot. Do this for 10-15 reps on each side and for three repetitions. To massage your foot, push down on the center of the bottom of the foot and use a circular motion while applying pressure. These stretches will not eliminate plantar fasciitis and are only meant to temporarily reduce pain. If you have heel pain, it is recommended that you see a podiatrist who can offer effective treatment strategies.
Plantar fasciitis can be very painful and inconvenient. If you are experiencing heel pain or symptoms of plantar fasciitis, contact Dr. Richard Silverstein from Union Foot Care. Our doctor can provide the care you need to keep you pain-free and on your feet.
What is Plantar Fasciitis?
Plantar fasciitis is the inflammation of the thick band of tissue that runs along the bottom of your foot, known as the plantar fascia, and causes mild to severe heel pain.
What Causes Plantar Fasciitis?
Excessive running
Non-supportive shoes
Overpronation
Repeated stretching and tearing of the plantar fascia
How Can It Be Treated?
Conservative measures – anti-inflammatories, ice packs, stretching exercises, physical therapy, orthotic devices
Shockwave therapy – sound waves are sent to the affected area to facilitate healing and are usually used for chronic cases of plantar fasciitis
Surgery – usually only used as a last resort when all else fails. The plantar fascia can be surgically detached from the heel
While very treatable, plantar fasciitis is definitely not something that should be ignored. Especially in severe cases, speaking to your doctor right away is highly recommended to avoid complications and severe heel pain. Your podiatrist can work with you to provide the appropriate treatment options tailored to your condition.
If you have any questions please feel free to contact our office located in Havre de Grace, MD. We offer the newest diagnostic and treatment technologies for all your foot and ankle needs.
Read more about Plantar Fasciitis