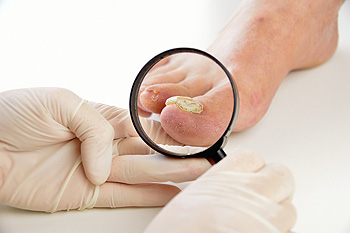 There are several symptoms that are noticeable and will determine if you are afflicted by toenail fungus. The toenail will often appear to be a yellowish color and may be thick and rough in texture. In more severe cases, the toenail may lift from the skin or break off completely. Occasionally, small black dots can be seen on the nail, which is typically considered to be dirt that has collected underneath the toenail. This type of fungus generally thrives in warm and moist surroundings and can typically be found in pool areas and saunas. It will benefit the overall health of the toenail if this condition is treated promptly. This may include undergoing a proper diagnosis, followed by medications that can be applied to the nail for mild cases. Extreme situations may call for oral medications to be ingested, despite certain side effects that may follow. If you are afflicted by this ailment, it's suggested to consult with a podiatrist for additional information and treatment options relative to toenail fungus.
For more information about treatment, contact Dr. Richard Silverstein of Union Foot Care. Our doctor can provide the care you need to keep you pain-free and on your feet.
Toenail Fungus Treatment
Toenail fungus is a condition that affects many people and can be especially hard to get rid of. Fortunately, there are several methods to go about treating and avoiding it.
Antifungals & Deterrence
Oral antifungal medicine has been shown to be effective in many cases. It is important to consult with a podiatrist to determine the proper regiment for you, or potentially explore other options.
Talcum powder – applying powder on the feet and shoes helps keep the feet free of moisture and sweat.
Sandals or open toed shoes – Wearing these will allow air movement and help keep feet dry. They also expose your feet to light, which fungus cannot tolerate. Socks with moisture wicking material also help as well.
If you have any questions please feel free to contact our office located in Havre de Grace, MD. We offer the newest diagnostic tools and technology to treat your foot and ankle needs.
Read more about Toenail Fungus